Some Dubya incidents are truly worth special notice. This section of the site features those incidents. If you know of any other confirmed Dubya escapades worthy of inclusion here, please e-mail DubyaSpeak.



PAGE
1 :

2

: 3 : 4 : 5 : 6 : 7

(Reprint of an article posted on South Africa's News24.com)

VATICAN CITY, Jun. 9, 2007

—

President George W Bush drew gasps at the Vatican on Saturday by referring to Pope Benedict XVI as "sir" instead of the expected "His Holiness", pool reporters said.

They could clearly hear the US leader say "Yes, sir" when the pope asked him if he was going to meet with officials of the lay Catholic Sant'Egidio community at the US embassy later during his visit.

A handful of pool reporters were on hand as Benedict greeted Bush at the door of his private library ahead of a private audience of about half an hour.

On his way to see the 80-year-old pontiff, the US leader apparently recognised someone he knew, and could be heard greeting the person with a casual "How ya doin'?"

The pool reporters also noted Bush's relaxed posture, crossing his legs "Texan style" while facing the pope across his desk in the private study of the apostolic palace.

Dubya's difficulty with Vatican protocol has been seen on these pages before:

1

|

2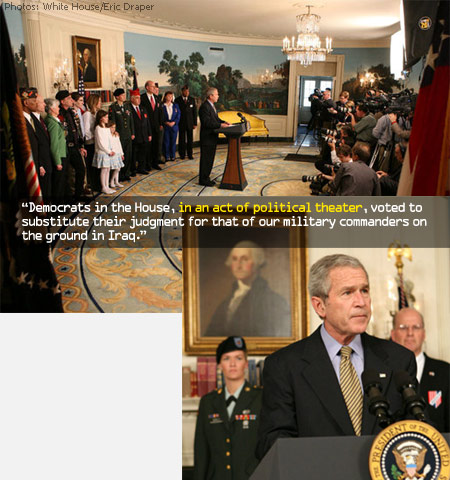 WHITE HOUSE, Mar. 23, 2007
—
With apparently no sense for the ironic, Dubya assembled a group of veterans, soldiers and family members of active-duty soldiers behind him in the Diplomatic Reception Room of the White House, with flags and a portrait of George Washington on display, and invited the press, so that he could decry congressional Democrats for what he termed "an act of political theater".
(Excerpt taken from the CNN transcript of a report made from Americus, Georgia on Mar. 3, 2007)
FREDRICKA WHITFIELD, CNN ANCHOR: Hello and you're in the Newsroom on this Saturday, March 3rd, I'm Fredricka Whitfield. We begin the day in the south, specifically Americus, Georgia, site of that deadly tornado this week. The second stop on a heart breaking trip. President Bush arrived just a short time ago in South Georgia where nine people died in Thursday's tornadoes. CNN senior correspondent Allan Chernoff joins us now from Americus, Georgia. Allan?
ALLAN CHERNOFF, CNN CORRESPONDENT: Fredricka, the president just left here a few minutes ago. And the president did take a look at some of the worst devastation here. He went over and met with people who live here, whose homes were absolutely destroyed. He seemed quite compassionate in talking with them and certainly telling them that the government is going to try to provide assistance over here. Afterwards, he did meet with the county sheriff, Pete Smith, the sheriff of Sumter County. And the sheriff said to him, I listened to the tape just a moment ago, he said we have got to get the people help here, get them back on their feet. He said we're doing everything we can, but we need some help. And the president responded by saying, well, the state's working on an assessment, they'll get the request into the federal government and they'll turn it around quickly to help the people down here. And then the president went on to say, he would like to see groups like Habitat for Humanity get down here, come down here, that's an exact quote. Afterwards, the sheriff reminded the president that Habitat for Humanity, in fact, is based right here in Americus. Following that, the president said, well, I would like them to come around the corner and start building homes because, of course, the federal government can provide some aid, and he said there clearly are some people he met who don't have insurance. So they're going to need help from those volunteers. And he said that's really the best help that anyone can get. Having neighbors come over, give a hand and try to rebuild homes. Fredricka?
WHITFIELD: All right, Allan Chernoff thanks so much, from Americus, Georgia.
(Reprint of the Newsweek.com write-up)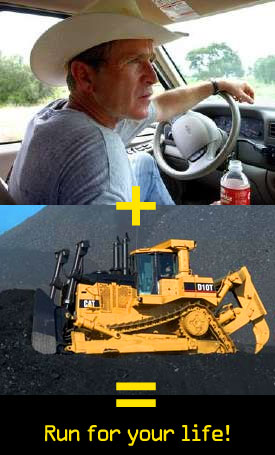 PEORIA, Illinois, Jan. 30, 2007
—
Does President Bush have it in for the press corps? Touring a Caterpillar factory in Peoria, Ill., the Commander in Chief got behind the wheel of a giant tractor and played chicken with a few wayward reporters. Wearing a pair of stylish safety glasses
—
at least more stylish than most safety glasses
—
Bush got a mini-tour of the factory before delivering remarks on the economy. "I would suggest moving back," Bush said as he climbed into the cab of a massive D-10 tractor. "I'm about to crank this sucker up." As the engine roared to life, White House staffers tried to steer the press corps to safety, but when the tractor lurched forward, they too were forced to scramble for safety. "Get out of the way!" a news photographer yelled. "I think he might run us over!" said another. White House aides tried to herd the reporters the right way without getting run over themselves. Even the Secret Service got involved, as one agent began yelling at reporters to get clear of the tractor. Watching the chaos below, Bush looked out the tractor's window and laughed, steering the massive machine into the spot where most of the press corps had been positioned. The episode lasted about a minute, and Bush was still laughing when he pulled to a stop. He gave reporters a thumbs-up. "If you've never driven a D-10, it's the coolest experience," Bush said afterward. Yeah, almost as much fun as seeing your life flash before your eyes.
HONOLULU, Nov. 20, 2006
—
Dubya's arrival at Hickam Air Force Base in Honolulu, Hawaii created an inexplicably awkward moment, as Freedom Corps volunteer Eloise Monsarrat tried to place a lei around Dubya's neck. Fortunately there were cameras to capture to magic.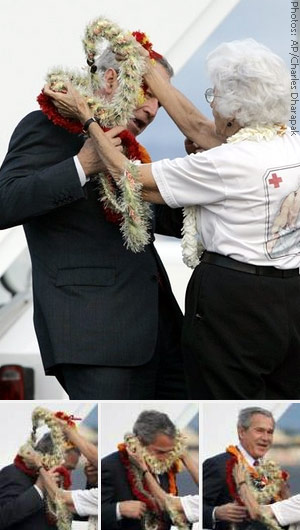 (Adapted from slide show caption on photos.reuters.com)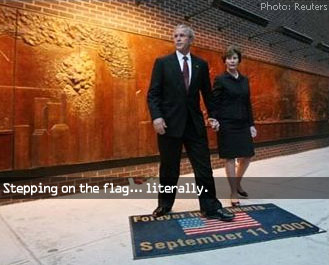 NEW YORK, Sep. 10, 2006
—
U.S. President George W. Bush and first lady Laura Bush stand on a carpet commemorating the date of the attacks of September 11, 2001 near a mural depicting those attacks outside the Ladder Company 10 firehouse opposite the site of the World Trade Center in New York, September 10, 2006.
Yes, that is correct. Someone designed a carpet (it looks more like a doormat to me...) featuring a likeness of the U.S. flag in the middle and commemorating those killed in the terrorist attacks of Sept. 11, 2001, and Dubya just walked all over it. Granted, Dubya didn't make this doormat, but he should still have been aware of Federal Flag Code, Section 8(c), which reads: "The flag should never be fastened, displayed, used, or stored in such a manner as to permit it to be easily torn, soiled, or damaged in any way." Some common sense would have come in handy, too.
Even Laura seemed to shy away from stepping on it, but there was no stopping the big guy.
And by the way, this isn't the first time Dubya has
desecrated the flag
.
(From accounts posted on dailykos.com and latimes.com)
STRELNA, Russia, Jul. 17, 2006
—
At the G8 summit in Russia, Dubya sneaks up behind German Chancellor Angela Merkel and gives her a quick massage before rushing off. Chancellor Merkel appears understandably uncomfortable.
1 »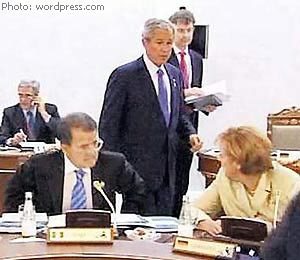 2 »
3 »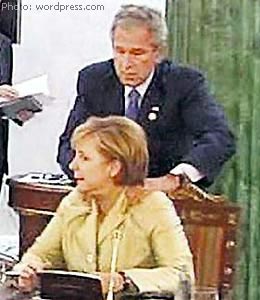 4 »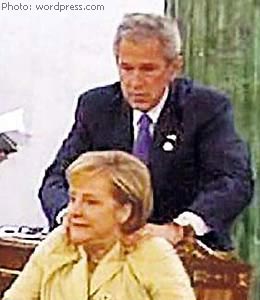 5 »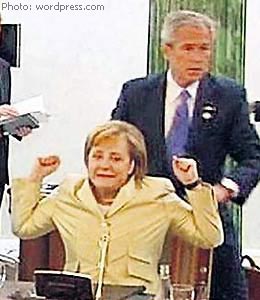 6 »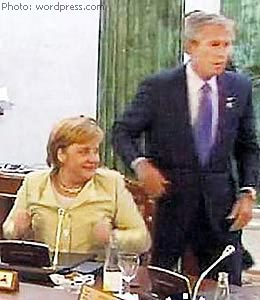 (Summarized from press accounts on CNN and the White House website)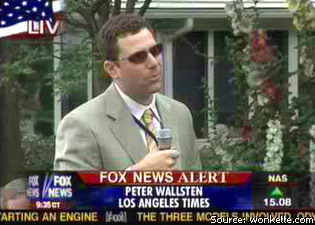 WHITE HOUSE, Jun. 14, 2006
—
The exchange occurred at a news conference in the Rose Garden:
DUBYA: Yes, Peter. Are you going to ask that question with shades on?
PETER WALLSTEN: I can take them off.
DUBYA: I'm interested in the shade look, seriously.
WALLSTEN: All right, I'll keep it, then.
DUBYA: For the viewers, there's no sun.

But even though the sun was behind the clouds, Wallsten still needs the sunglasses because he has Stargardt's Disease, a form of macular degeneration that causes progressive vision loss. The condition causes Wallsten to be sensitive to glare and even on a cloudy day, can cause pain and increase the loss of sight.

So despite the first-name-basis repartee, Dubya was pretty much clueless yet again

And as an added bonus, now we have a real incident to replace a storied phony incident of yesteryear.

YouTube Video:

(Summarized from press accounts on CNN, washingtonpost.com and "Online NewsHour" on pbs.org)
WHITE HOUSE, Apr. 20, 2006
—
Dubya certainly pulled out all the stops for the a visit to the White House by Chinese President Hu Jintao today. The flags per square inch ratio was high. Trumpets blared, military members marched, and there was even a 21-gun salute. In short, all of the pomp of a state visit was brought out and put on display. Although as it turns out, owing to the complexities and nuances of US-China relations, it wasn't a state visit. It was merely billed as an "official visit". Which is probably a good thing, because things started going wrong pretty quickly: 1) President Hu was introduced as the President of the Republic of China. Of course, the Republic of China is the official name of Taiwan, which is not recognized by China (the People's Republic) as an independent state. It's sort of a touchy area. 2) Partway into President Hu's address, a protestor who had magically obtained press credentials as a reporter for the Falun Gong was able to yell out "President Bush, stop him from persecuting the Falun Gong!" in English, and, "President Bush: Stop him from killing!" before being removed from the White House South Lawn. Falun Gong, of course, is another group with which China has ongoing disputes. Probably not the best time for one of their members to show up. 3) Then, when the speeches were over, Dubya noticed the Chinese President heading for a different flight of stairs than the specified ones, and gave President Hu a nice tug on the sleeve. You can see how well that went over.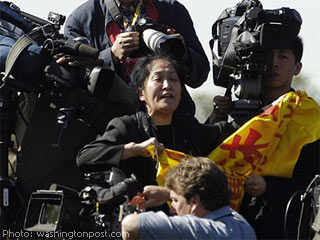 Then, later that day, Dubya gets touchy-feely in all the wrong ways again...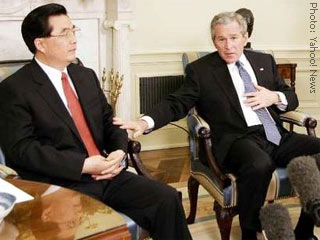 My guess is that President Hu couldn't wait to get out of there. If that was the intent, mission accomplished, Dubya.
(Dubya paid a state visit to Pakistan in March 2006, and he had the opportunity to play cricket

—

sort of. Here are the pictures.)

PAGE
1 :

2

: 3 : 4 : 5 : 6 : 7