Some Dubya incidents are truly worth special notice. This section of the site features those incidents. If you know of any other confirmed Dubya escapades worthy of inclusion here, please e-mail DubyaSpeak.



PAGE
1 : 2 :

3

: 4 : 5 : 6 : 7

(Excerted from ABC News account of what can only be termed highly ironic decision making)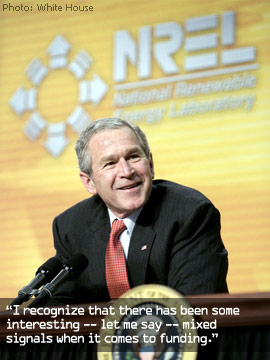 ENGLEWOOD, Colorado
—
President Bush says he wants to diversify the nation's energy mix to end America's dependence on foreign oil, yet some critics are wary of his commitment and point to cutbacks at a government energy laboratory here.
Two weeks ago, 32 workers, including eight researchers, were laid off at the Energy Department's National Renewable Energy Laboratory in Golden. The lab helps develop the very renewable energy technologies the president is promoting.
Then, over the weekend, just before Bush's planned visit to the lab on Tuesday, the government restored the jobs. His trip to the renewable energy laboratory is part of a two-day, three-state trip to promote the energy proposals he outlined in his State of the Union address.
At the direction of Energy Secretary Samuel Bodman, $5 million was transferred to the Midwest Research Institute, the operating contractor for the lab, to get the workers back on the job, the Energy Department announced Monday.
Philip Clapp, president of the National Environmental Trust, said the decision restores only $5 million of the $28 million budget shortfall at the lab that forced the layoffs.
"The $5 million stopped the bodies from going out the door, but it doesn't provide the money for the (renewable energy) programs," Clapp said.
Gary Nakarado, who has worked at the lab for 13 years, said he hasn't received a call to return to work. He said he had "a sense of irony" about the layoffs announced just a week after Bush declared in his State of the Union address that the nation needs to end its "addiction" to foreign oil.
[Addendum
—
Dubya addressed the funding issue at the start of a roundtable discussion on energy conservation and efficiency: "I recognize that there has been some interesting
—
let me say
—
mixed signals when it comes to funding."]
(Excerpted from Yahoo News account of Dubya's appearance at the House Republican Caucus retreat, which took place on February 10, 2006, at a luxury resort along the Choptank River in Maryland)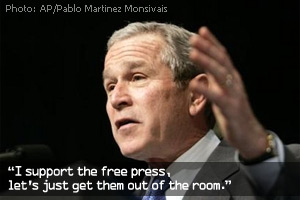 CAMBRIDGE, Maryland
—
President Bush defended his warrantless eavesdropping program Friday, saying during what he thought were private remarks that he concluded that spying on Americans was necessary to fill a gap in the United States' security. ...
The president said he asked the National Security Agency to devise a way to gather intelligence on terrorists' potential activities, and the result was the super-secret spy outfit's program to monitor the international e-mails and phone calls of people inside the United States with suspected ties to terrorists overseas. Bush said lawyers in the White House and at the Justice Department signed off on the program's legality, and "we put constant checks on the program." ...
The president's comments on the NSA eavesdropping came after six minutes of remarks intended for public consumption. In them, Bush stroked lawmakers with thanks and gave a gentle push for his 2006 priorities in a scaled-back version of last month's State of the Union address. ...
"It's hard work, to cut out and cut back on programs that don't work," Bush said. "Every program sounds beautiful in Washington, D.C. until you start analyzing the results."
Reporters then were ushered out
—
"I support the free press, let's just get them out of the room." Bush said...
"I want to share some thoughts with you before I answer your questions," said Bush, unaware that microphones were still on and were allowing those back in the White House press room to eavesdrop on his eavesdropping defense. "First of all, I expect this conversation we're about to have to stay in the room. I know that's impossible in Washington."
That was not to be
—
and it was telling that the president chose the controversial NSA program as the first topic to raise out of reporters' earshot. ...
The eavesdropping program has come under fire from Republicans as well as Democrats. They argue that Bush already has the authority to monitor such communications through existing law that requires a warrant from a secret court set up to act quickly, or even after the fact. Bush has argued that the system isn't nimble enough.
(Under the circumstances, that's a little like the pot calling the kettle black...)
(A clear desire to put a lot of distance between himself and the press has an unexpected outcome for Dubya, as adapted from a report made by BBC News, Nov. 20, 2005)
| | | |
| --- | --- | --- |
| YouTube Video: | | Photo taken at just the right time: |
BEIJING, China - After answering just six questions from a group of US reporters, the president strode away heading towards the door. President Bush tugged at both handles on the double doors before admitting: "I was trying to escape. Obviously, it didn't work." Mr Bush was in China in the latest stop of his East Asia tour.
The president had called the news session with US reporters at his hotel.
His earlier meeting with Chinese President Hu Jintao did not permit media questions.
Mr Bush answered a range of questions before one reporter said: "Respectfully, sir - you know we're always respectful - in your statement this morning with President Hu, you seemed a little off your game, you seemed to hurry through your statement. There was a lack of enthusiasm. Was something bothering you?"
The president answered: "Have you ever heard of jet lag? Well, good. That answers your question."
The reporter asked for a follow-up question but the president then thanked the attending journalists and said "No you may not" as he walked away.
He strode from the lectern to the door, trying both handles to no avail, adding awkardness to an already uncomfortable outing.
An aide escorted him on to dinner at the Great Hall of the People.
Is it just me, or is this kind of a strange thing to do at the funeral of Pope John Paul II?
(Excerpted from a report by Deb Riechmann, Associated Press, found on Yahoo! News)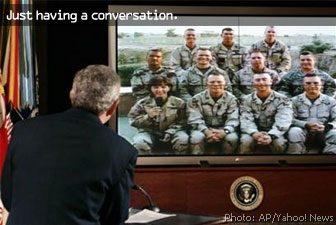 WASHINGTON - It was billed as a conversation with U.S. troops, but the questions President Bush asked on a teleconference call Thursday were choreographed to match his goals for the war in Iraq and Saturday's vote on a new Iraqi constitution.
"This is an important time," Allison Barber, deputy assistant defense secretary, said, coaching the soldiers before Bush arrived. "The president is looking forward to having just a conversation with you."
Barber said the president was interested in three topics: the overall security situation in Iraq, security preparations for the weekend vote and efforts to train Iraqi troops.
As she spoke in Washington, a live shot of 10 soldiers from the Army's 42nd Infantry Division and one Iraqi soldier was beamed into the Eisenhower Executive Office Building from Tikrit
—
the birthplace of former Iraqi leader Saddam Hussein.
"I'm going to ask somebody to grab those two water bottles against the wall and move them out of the camera shot for me," Barber said.
A brief rehearsal ensued.
"OK, so let's just walk through this," Barber said. "Captain Kennedy, you answer the first question and you hand the mike to whom?"
"Captain Smith," Kennedy said.
"Captain. Smith? You take the mike and you hand it to whom?" she asked.
"Captain Kennedy," the soldier replied.
And so it went.
"If the question comes up about partnering
—
how often do we train with the Iraqi military
—
who does he go to?" Barber asked.
"That's going to go to Captain Pratt," one of the soldiers said.
"And then if we're going to talk a little bit about the folks in Tikrit
—
the hometown
—
and how they're handling the political process, who are we going to give that to?" she asked.
Before he took questions, Bush thanked the soldiers for serving and reassured them that the U.S. would not pull out of Iraq until the mission was complete. The president told them twice that the American people were behind them. "You've got tremendous support here at home," Bush said.
White House press secretary Scott McClellan said Thursday's event was coordinated with the Defense Department but that the troops were expressing their own thoughts. With satellite feeds, coordination often is needed to overcome technological challenges, such as delays, he said.
The soldiers all gave Bush an upbeat view of the situation. The president also got praise from the Iraqi soldier who was part of the chat. "Thank you very much for everything," he gushed. "I like you."
On the training of Iraqi security forces, Master Sgt. Corine Lombardo from Scotia, N.Y., said to Bush: "I can tell you over the past 10 months, we've seen a tremendous increase in the capabilities and the confidences of our Iraqi security force partners."
Lombardo told the president that she was in New York City on Nov. 11, 2001, when Bush attended an event recognizing soldiers for their recovery and rescue efforts at Ground Zero. She said the troops began the fight against terrorism in the wake of the Sept. 11 terrorist attacks and were proud to continue it in Iraq.
"I thought you looked familiar," Bush said, and then joked: "I probably look familiar to you, too."
[DubyaSpeak: This was probably the only unscripted moment in the entire encounter. It started out with Dubya trying to find out if the Master Sgt. was in New York on 9/11, but she didn't catch it and talked right over him.]
Paul Rieckhoff, director of the New York-based Operation Truth, an advocacy group for U.S. veterans of Iraq and Afghanistan, denounced the event as a "carefully scripted publicity stunt." Five of the 10 U.S. troops involved were officers, he said.
"If he wants the real opinions of the troops, he can't do it in a nationally televised teleconference," Rieckhoff said. "He needs to be talking to the boots on the ground and that's not a bunch of captains."
(Reported everywhere immediately after it happened)
| | |
| --- | --- |
| | Dubya jots down an important message to Secretary of State Condoleezza Rice while attending the U.N. World Summit on Sep. 14, 2005. It kind of has a schoolboy feel to it, not to mention bad punctuation and haphazard lower/upper case lettering. And it has to be one of the funniest Dubya Incidents in a long, long time. |
(Excerpted from a report by the Associated Press, found on USA Today and other news sites)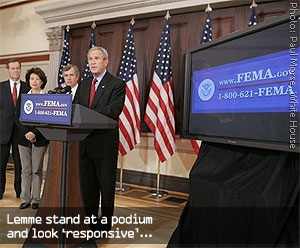 In a letter to the Senate's Homeland Security Committee chairwoman, [Harry] Reid, the Senate Democratic leader, pressed for a wide-ranging investigation and answers to several questions, including: "How much time did the president spend dealing with this emerging crisis while he was on vacation? Did the fact that he was outside of Washington, D.C., have any effect on the federal government's response?"
At a news conference, Pelosi, D-Calif., said Bush's choice for head of the Federal Emergency Management Agency had "absolutely no credentials."
She related that she had urged Bush at the White House on Tuesday to fire Michael Brown.
"He said 'Why would I do that?'" Pelosi said.
'"I said because of all that went wrong, of all that didn't go right last week.' And he said 'What didn't go right?'"
"Oblivious, in denial, dangerous," she added.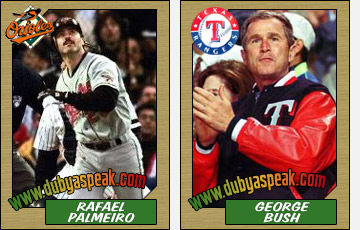 On July 15, 2005, Dubya's friend and Baltimore Oriole slugger Rafael Palmeiro became only the fourth major league player to hit more than 500 home runs and 3,000 base hits.
Now, here's Dubya from his 2004 State of the Union Address:
"The use of performance-enhancing drugs like steroids in baseball, football and other sports is dangerous and it sends the wrong message. That there are shortcuts to accomplishment and that performance is more important than character."
Here's Dubya, upon the announcement of Palmeiro's 10-day suspension from baseball, ordered on Aug. 1, 2005 for
testing positive for the use of steroids
:
"Rafael Palmeiro is a friend. He testified in public and I believe him. He's the kind of person that's going to stand up in front of the klieg lights and say he didn't use steroids, and I believe him. Still do."
So, either Dubya is in denial, or he thinks Major League Baseball is lying when it says his friend is using steroids. Neither interpretation is particularly reassuring.
Dubya, warming up for the cameras back in his Governor days, lets loose with his "one-fingered victory salute." This really happened. See for yourself below. [Kids, this isn't for you.]
| | | |
| --- | --- | --- |
| YouTube Video: | | Sanitized for your protection: |
PAGE
1 : 2 :

3

: 4 : 5 : 6 : 7