Some Dubya incidents are truly worth special notice. This section of the site features those incidents. If you know of any other confirmed Dubya escapades worthy of inclusion here, please e-mail DubyaSpeak.



PAGE
1 : 2 : 3 : 4 : 5 : 6 :

7


(Excerpted and adapted from article in "Der Spiegel", May 19, 2002)

It is said, that, before September 11, George W. Bush thought the Taliban were a Bavarian brass band. Now, thanks to his comprehensive knowledge, the most powerful man in the world has got into hot water again.

It was Condoleezza Rice, national security advisor, who helped her boss out of the embarassing situation. During a conversation between the two presidents, George W. Bush, 55, and Brazilian president Fernando Henrique Cardoso, 71, Bush bewildered his colleague with the question "Do you have blacks, too?"

Rice, 47, noticing how astonished the Brazilian was, saved the day by telling Bush "Mr. President, Brazil probably has more blacks than the USA. Some say it's the country with the most blacks outside Africa." Later, Cardoso commented that regarding Latin America, Bush was still in his "learning phase".


(Excerpted and adapted from AP article by Jennifer Loven.)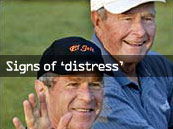 It was a quick shift from angry statesman to Sunday golfer. Dubya rose before dawn for a round of golf with his father at the Cape Arundel Golf Club, but was "distressed" to learn of another suicide bombing in Israel. With his golf club at the ready, and wagging his finger for emphasis, Dubya commented, "There are a few killers who want to stop the peace process that we have started. We must not let them."
The six-sentence statement complete, Dubya thanked reporters, then smirked and ordered: "Now watch my drive."
On the same golf course a month ago, White House advisers pleaded with Dubya to "try not to look like you're on a golf course" when he made a brief statement on the assassination of an Afghan vice president. Apparently it's harder than his staff imagined to separate the sensibilities of a privileged rich kid from those commanded of the Commander-in-Chief.

(Excerpted from Washington Post article on the Quebec City summit by Dana Milbank, Apr. 23, 2001. Thanks Lisa)

Attention focused ... on the first opportunity to view President Bush on an extended foreign voyage. Pity the American president, a Texan who likes hamburgers and barbecue, when he is served a meal of "Symphony Gaspesienne" and "Pommes de terre dauphinoise."

The president's table manners were critiqued in a front-page column in Quebec's daily Le Soleil. "When heads of state and governments sat down in the ballroom of the residence, a cool bottle of water and a crystal glass waited for them," it reported. "George Bush unscrewed the top and started to drink from the bottle. 'Vulgar,' thought the South American presidents."


(Sent into DubyaSpeak by close to 20 Canadian readers. Excerpted from AP article.)

Stung by a pop quiz about foreign leaders earlier in his campaign, Republican presidential candidate George W. Bush now has fallen victim to a foreign affairs prank.

Canadians are chuckling over his on-air answer when a comic posing as a reporter made up a story that Canadian Prime Minister "Jean Poutine" had endorsed him. "I appreciate his strong statement, he understands I believe in free trade," Bush replied.

"He understands I want to make sure our relations with our most important neighbor to the north of us, the Canadians, is strong and we'll work closely together," he continued.

Canada's prime minister is Jean Chretien, not Poutine, and he has endorsed no one in U.S. politics. Poutine is a fast food meal of french fries, gravy and cheese curd popular in French-speaking Quebec.

The stunt was pulled by comic Rick Mercer from "This Hour Has 22 Minutes," a satirical TV show in Canada. Mercer, who sets up politicians on both sides of the border for laughs, buttonholed Bush at a campaign event in Michigan last month and fired several questions at him about a Prime Minister Poutine. The CBC program showed the exchange twice last week.

The real prime minister's office took the episode in stride, offering this response: "Clearly, Canada is not in the Bush leagues."


(Excerpted from "Why Bush doesn't like homework", James Carney, Nov. 8, 1999, CNN.com)

On a trip to New Hampshire in September, Bush was cruising the streets and storefronts of downtown Milford when he encountered a woman who asked what he would do to "promote peace in the Middle East." Bush didn't hesitate. "I want to stand by Israel," he declared. "We're not gonna allow Israel to be pushed into the Red Sea." And then he said, "There's something called the Arrow missile system, which is an inter-ballistic, a short-range inter-ballistic missile system that intercepts missiles coming from [elsewhere]."

Set aside that Bush replied to a question about the Middle East peace process by talking up missile-defense systems at a time when Israelis and Palestinians are engaged in sensitive negotiations. And never mind the fact that he probably meant the Mediterranean Sea, along which Israel has a lengthy border, and not the Red Sea, on which it has but one port. There was something else jarring about what Bush said. There is no such thing as an "inter"-ballistic missile.


(Sent in by eyewitness)

In the summer of 1996, Governor Dubya addressed the annual statewide Girl Scout Gold Award Recipients award ceremony. The Gold Award is the highest award you can receive in Girl Scouting, equivalent to the Eagle award in Boy Scouts. Most of the girls were high school seniors who had fulfilled all the necessary requirements, and who had each planned and carried out a reasonably large service project.

The speech was given in the Texas House Chambers to a room of 85-90% women. Governor Dubya walked in and gave a speech he had intended to give to the Boys State attendees but for some reason wasn't able to. He proceeded to give this room of 90% women a lecture calling on us to be responsible men. If we FATHER a child we should not abandon the mother and should instead be responsible fathers.

NOT ONLY did he not prepare a speech for this event but he recycled a completely inappropriate one for the crowd he was addressing. It was insulting, and he did not bother even an attempt at tying the speech in any way to his audience.

(As reported by Lloyd Grove, Washington Post, Mar. 6, 2002)
[SORRY! This incident has turned out to be apocryphal. The Washington Post and several other news organizations were had. Still a funny story, even if it is untrue. And of course, it has to be said that it seemed scarily plausible. Thanks to the alert viewer who informed us.]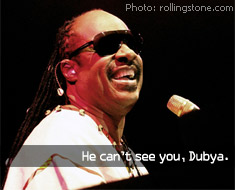 Here's a vignette we're dying to see on the ABC broadcast of Sunday's Ford's Theatre Presidential Gala: When Stevie Wonder sat down at the keyboard center stage, President Bush in the front row got very excited. He smiled and started waving at Wonder, who understandably did not respond. After a moment Bush realized his mistake and slowly dropped the errant hand back to his lap.
"I know I shouldn't have," a witness told us yesterday, "but I started laughing."
(Sent in by reader. Excerpted from account posted on bushfiles.com, dating from Dubya's unsuccessful run for Congress in 1978.)
"Bush was into oil. ...He didn't know anything about farm country," says [Gary] Ott [reporter for the Plainview Daily Herald]. This, along with his lack of campaign experience, got him into trouble on at least one occasion, when he spoke before a large political science class at Texas Tech. "He started to talk about his views, his policies," recalls one West Texas attorney who was a student in the class. "It was during the time of the grain embargo with the Russians, and a substantial number of people up here were more interested in selling grain than fighting Communism."
"George Bush said that he would strongly fight for the elimination of the embargo, and then for whatever reason, he decided he needed to talk about how evil Communism was, and how the Cuba embargo needed to be kept in place. ...I kind of got the impression that he was saying whatever people would like to hear."
Aware that Cuba received heavy subsidies from Russia, the student raised his hand. "I said, how do you justify the contradiction there? And he just looked at me for the longest time and didn't say anything, and just stared." Other students started tittering, recalls the attorney, and "it was like he was trying to make the wheels spin but they would not. It's about that time that I figured out that George Junior is no mental giant." Finally, Bush replied that "there were going to be a lot of hard questions and stuff he hadn't figured out yet," the attorney says.
According to the man who stymied Bush that day at Texas Tech, he saw the candidate again after class. "I guess I felt a bit superior," he recalls. "It had snowed in Lubbock quite a bit, and I was sitting out in front of the Beta House on Broadway Street with a couple of Betas. And George came down the street," with a couple of his campaign workers.
"I started to heckle him, and laugh, and I called him an idiot. He said something back that I didn't understand, and then I decided to throw a snowball at him. I threw two or three, and one hit him in the chest.
"Then he started across the street to come whup my butt. He didn't back down," the lawyer says. "But then his handlers held him back."
(Sent in by reader. As noted on mediaresearch.org.)
While he was appearing on the David Letterman show (Oct. 19, 2000), during a commercial break when executive producer Maria Pope was leaning over to consult with Letterman
—
Dubya casually reached out and cleaned his glasses using the hem of her green jacket, unbeknownst to her. Classy.
[Sent in by reader. Excerpted from account posted on the personal web site of John Covington, which itself is taken from Bill Minutaglio's "First Son, George W. Bush and the Bush Family Dynasty" (Random House, 1999)]
Bush banged on the door of Susie and Don Evans on an otherwise placid Sunday afternoon [in 1976] and suggested to Don that they head out to the airport and spend a few bucks for a spin over the desiccated Permian Basin in a single-engine Cessna. Susie Evans, who had gone to elementary school with Bush, was a longtime Midland presence, and when she had been dating her future husband in Houston, she had frequently stayed at the Bush house. She had moved back to Midland, and after she had heard that Bush was back in town, she and her husband had frequently invited him over.
Evans said he'd love to go flying. At the airport he watched Bush stare at the controls, at the panel, and he realized that Bush
—
though not admitting it
—
had no idea how to fly the thing properly. After finally figuring out how to launch the plane, Bush pushed the Cessna hard down the runway. Evans screamed, "Give it some gas!" The Cessna's warning system was blinking and crackling. Bush tried to lift his craft fast, almost as if he were piloting a jet back in the Texas Air National Guard. The plane wobbled into the air, and the unsubtle maneuvering threatened to shove it into a stall. Now the rented plane was rattling in the sky over Midland
The endless petrochemical complexes, all the aluminum and steel and smoke stacks that pockmark the Permian Basin, were spiking up just below the aircraft. Bush nervously turned to Evans, put his hand on his knee and blurted in his self-mocking West Texas way, "Okay, Evvie, I've got it under control."
After more seemingly endless moments, he somehow got control of the plane again. He aimed the aircraft down, and the landing was as shaky and brutal as the takeoff. The plane careened off the runway and onto the desert. Evans sighed in relief. Then an unbelieving Evans braced himself as Bush suddenly and unexpectedly spun the plane and bounced back along the runway. Evans stared at Bush. He could see the fear and panic flooding his face.
[Note: Don Evans served as the U.S. Secretary of Commerce 2001-2005. George W. Bush served as President of the United States 2001-2009.]
PAGE
1 : 2 : 3 : 4 : 5 : 6 :

7