Some Dubya incidents are truly worth special notice. This section of the site features those incidents. If you know of any other confirmed Dubya escapades worthy of inclusion here, please e-mail DubyaSpeak.



PAGE
1 : 2 : 3 :

4

: 5 : 6 : 7

(What is it with Dubya and bikes/scooters? Excerpted and adapted from Yahoo! News story, Jul. 6, 2005)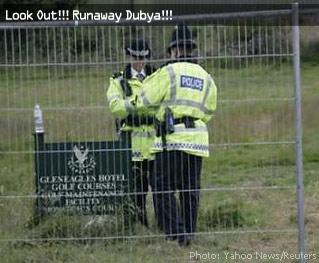 GLENEAGLES, Scotland - President Bush collided with a local police officer and fell during a bike ride on the grounds of the Gleneagles golf resort while attending a meeting of world leaders Wednesday.
Bush suffered "mild to moderate" scrapes on his hands and arms that required bandages by the White House physician, said White House spokesman Scott McClellan. The accident occurred on asphalt, McClellan said. It was raining lightly at the time, and Bush was wearing a helmet.
Police said the officer suffered a "very minor" ankle injury.
The presidential bike suffered some damage, McClellan said, so Bush rode back to the hotel in a Secret Service vehicle.
A year ago, Bush was cut and bruised when he sailed over the handlebars while riding a mountain bike at his Texas ranch.
In 2003, he tried out a Segway, the standup, motorized scooter at the family's seaside estate in Maine. It
went down on his first attempt
, but he stayed on his feet with a flying leap over the machine.
(Excerpted and adapted from article on suntimes.com)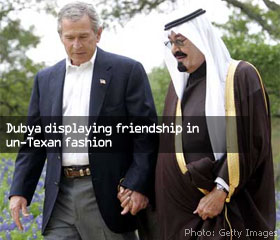 When Bush and Abdullah held hands walking into their meeting, the gesture prompted questions about two men showing that kind of physical intimacy.
Fred Jones, the National Security Council spokesman, said hand-holding is an Arab expression of "friendship, respect and trust."
The gesture goes further than a symbol of friendship, according to James Zogby, of the Arab American Institute, a Washington-based Arab civil rights organization. "The president and Crown Prince Abdullah were also sending a real political message that they are partners and friends and intend to remain that way," Zogby said.
"To the Saudi people, the message was that their leader has the respect and support of the American president. And the fact that President Bush confidently took the crown prince's hand and held it all the way into the office said to Americans, 'This is my friend and I am going to walk with him,'" Zogby said.
Well, that's one possible interpretation of what it said to Americans... And to the world...
(Adapted from article on chicagodefender.com)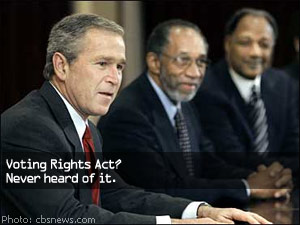 President George W. Bush met with the Congressional Black Caucus Wednesday for the first time as a group in nearly four years, but what CBC members said stood out the most was the president's declaration that he was "unfamiliar" with the Voting Rights Act of 1965, one of the most significant pieces of legislation passed in the history of the United States.
At the conclusion of yesterday's 40-minute meeting, Bush - who attended along with Secretary of State Condoleezza Rice - was asked by Rep. Jesse Jackson Jr. (D-Illinois) whether he would support the re-authorization of a portion of the Voting Rights Act that must be approved every 25 years (It will come up for consideration next year).
"I don't know anything about the 1965 Voting Rights Act," Jackson recalled the president saying in an interview with the Chicago Defender.
He said that a hurried Bush went on to say that "when the legislation comes before me, I'll take a look at it, but I don't know about it to comment any more than that, but we will look at it when it comes to us."
"It was so unbelievable to me that as soon as I walked out, I got Frank [Watkins, Jackson's top legislative aide] on the telephone, put [Congresswomen] Maxine (Waters, D-California) and Sheila Jackson Lee (D-Texas), so that I could confirm what he just said is what I heard," Jackson said.
Rep. Bobby Rush (D-Illinois) said he recalled the president saying he was "unfamiliar" with the Voting Rights Act.
"I was surprised and astounded," Rush told the Defender.
According to the description on the Department of Justice's website, the Voting Rights Act is "generally considered the most successful piece of civil rights legislation ever adopted by the United States Congress."
In this audio excerpt from a "funny" video produced by Dubya and his White House buddies, intended as a sequel to 2003's "Barney Reloaded", Dubya irons out his acting skills, and applies extra starch. I wish I were making all this up, but alas I am not.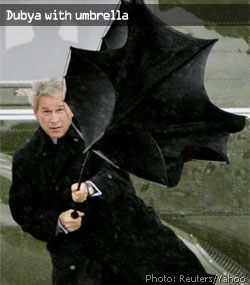 Dubya finds himself in a losing battle with the wind as he steps onto the tarmac from Marine One at Andrews Air Force Base. There's nothing particularly notable about this incident outside of the photo, which is priceless (June 1, 2004).
(Adapted from article on guardian.co.uk)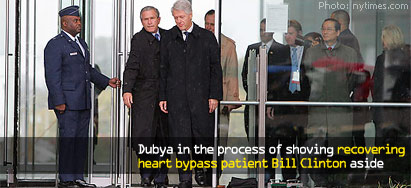 Dubya is always Dubya, wherever he goes. So it should come as no surprise that despite the dictates of common sense, and of common courtesy, Dubya's appearance at the opening of the Clinton Presidential Center in Arkansas had its moments. One of the more noteworthy moments occurred when the presidents were announced. Bush tried to push his way past Clinton at the library door to be first in line (see photo), against the already accepted protocol for the event, as though the walk to the platform was a contest for alpha male. In addition, Dubya offered some choice quips over the course of the day including this exchange made to a tour guide as they looked onto the Arkansas River:
TOUR GUIDE: Usually, you might see some bass fishermen out there.
DUBYA: A submarine could take this place out.
At the private luncheon afterwards, in a heated tent pitched behind the library, Shimon Peres delivered a heartfelt toast to Clinton's perseverance in pursuing the Middle East peace process. Upon entering the tent, Dubya, according to an eyewitness, told an aide: "One gulp and we're out of here." He had informed the Clintons he would stay through the lunch, but by the time Peres arose with wine glass in hand Dubya was gone.
Just a matter of days before the 2004 election, the White House decided to release a 19-chapter tome called "Record of Achievement", a policy paper which reads suspiciously like campaign literature. The first paragraph of the
report
is reproduced here for your consideration: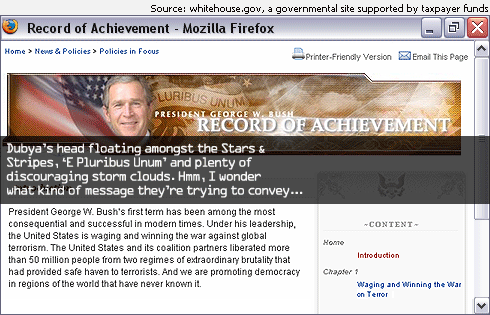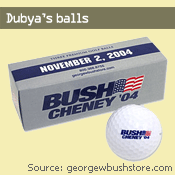 Rather than run away from the country-club image, Dubya's campaign sold it to the masses on their 2004 campaign's online store. I guess that when the over-$200,000 income club take the tax breaks and tax avoidance skills that Dubya brings up as insurmountable obstacles to increased, fairer taxation, they can afford to buy these golf balls by the truckload!
(Excerpted from an article on nytimes.com by Ron Suskind)
There is one story about Bush's particular brand of certainty I am able to piece together and tell for the record.
In the Oval Office in December 2002, the president met with a few ranking senators and members of the House, both Republicans and Democrats. In those days, there were high hopes that the United States-sponsored "road map" for the Israelis and Palestinians would be a pathway to peace, and the discussion that wintry day was, in part, about countries providing peacekeeping forces in the region. The problem, everyone agreed, was that a number of European countries, like France and Germany, had armies that were not trusted by either the Israelis or Palestinians. One congressman
—
the Hungarian-born Tom Lantos, a Democrat from California and the only Holocaust survivor in Congress
—
mentioned that the Scandinavian countries were viewed more positively. Lantos went on to describe for the president how the Swedish Army might be an ideal candidate to anchor a small peacekeeping force on the West Bank and the Gaza Strip. Sweden has a well-trained force of about 25,000. The president looked at him appraisingly, several people in the room recall.
"I don't know why you're talking about Sweden," Bush said. "They're the neutral one. They don't have an army."
Lantos paused, a little shocked, and offered a gentlemanly reply: "Mr. President, you may have thought that I said Switzerland. They're the ones that are historically neutral, without an army." Then Lantos mentioned, in a gracious aside, that the Swiss do have a tough national guard to protect the country in the event of invasion.
Bush held to his view. "No, no, it's Sweden that has no army."
The room went silent, until someone changed the subject.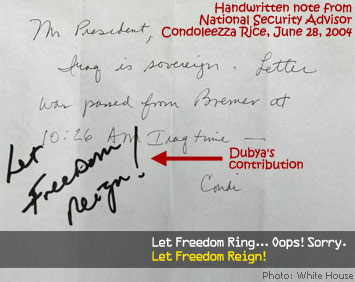 On June 28, 2004, Dubya's boys in Baghdad slipped the transfer of power from the U.S.-led provisional authority to the U.S.-selected puppet regime under the radar of the world press. The ability to safely conduct this ceremony in complete obscurity two days earlier than planned was a point of pride in the administration, as evidenced by their providing a photo of the handwritten note from National Security Adviser Condoleezza Rice announcing the development to Dubya. Dubya very quickly scribbled a phrase onto the note: "Let Freedom Reign". Now, perhaps this was an intentional choice of wording, but it seems more likely that he was hoping to borrow from the lyrics of the patriotic tune "America" (an odd choice for a nation presumably just "freed" from American occupation), and managed to mess it up in a way similar to well-meaning people who write "Congradulations!" on graduation day greeting cards, and don't realize their mistake.
For reference, please note the excerpted lyrics of "America" below:
"America" by Rev. Samuel F. Smith
My country, 'tis of thee,
Sweet land of liberty
Of thee I sing;
Land where my fathers died,
Land of the pilgrims' pride,
From every mountain side
Let freedom ring.
PAGE
1 : 2 : 3 :

4

: 5 : 6 : 7